Since her debut, Jennifer Lopez, popularly known as J.Lo, has had quite a number of high-profile romances. Three of which ended in marriages and two in broken engagements.
How many men J.Lo Married?
Three, they say, is a lucky number. Yes, J.Lo has walked down the aisle three times so far. Her first husband, Ojani Noa, was a waiter at a Miami restaurant in the late '90s.
They were married for just 11 months and divorced in January 1998.
Cris Judd was a dancer and choreographer J.Lo met on the set of her music video, "Love Don't Cost a Thing", which he directed. This is how he described their first encounter on an Oprah episode of "Where Are They Now?", "So, when Jennifer walks in, I shake her hand, and we kinda look at each other—and in my head, I'm like, 'Oh my God, I'm going to marry this woman,'"
They were married for just nine months, from 2001 to 2002.
It is speculated that stress from the paparazzi strained their relationship.
J.Lo's third marriage was the longest with Marc Anthony, for seven years until they split in 2011.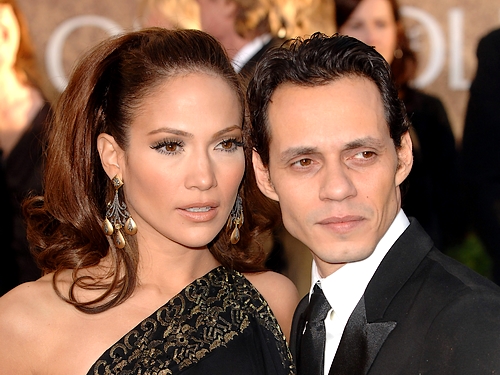 During their marriage, they collaborated on music and performed together, as well as co-starring.
They had two children together, fraternal twins Maximilian and Emme.
Who were J.Lo's broken engagements?
Actor Ben Affleck was the first. They met on the set of Gigli in 2002 and became engaged less than a year later. They called off the wedding in 2004.
Years later, J.Lo said Affleck's discomfort with media scrutiny was one reason for their split and described it as her "first real heartbreak". She wrote an entire album dedicated to and inspired by Affleck, which made it obvious how much she loved him.
Alex Rodriguez and J.Lo announced their engagement news on Instagram on March 10, 2019, but pushed back their wedding date twice due to COVID-19 and eventually called the whole thing off.
There were rumours Alex cheated on J.Lo, but it is unclear if that was the reason for their split.
J.Lo's current relationship status?
In May 2021, there were rumours that J.Lo and actor Ben Affleck had rekindled a hot romance which seems to be going strong.
"Bennifer", as they were affectionately called attended the film premiere for "Marry Me" earlier this year, looking so into each other.
J.Lo formally announced their engagement to her fans in her newsletter after just under a year of dating (again). We wish them all the best this time.